Concise Financial Solutions are based in Lincoln and offer mortgage and protection advice across the UK. We specialise in providing whole of market help and advice on all aspects of property finance including residential and buy to let mortgages and equity release products. Our aim is to provide comprehensive but relevant advice in a clear and easy to understand way.
Concise Financial Solutions has a strategic relationship with Stonebridge Group, enabling us to search 1,000s of mortgage products across the whole of the market, some of which are exclusive to us and not available on the high street.
At Concise we also believe in protecting you, your home and your family if the worst was to happen. With access to the leading insurance providers we can make sure you are covered for any eventuality.
We are happy to meet to discuss your requirements further at a time and place to suit you. Our initial appointment is always at our cost with no obligation to proceed.
Our fees, if applicable, will always be agreed with you upfront and are only payable if an application is approved.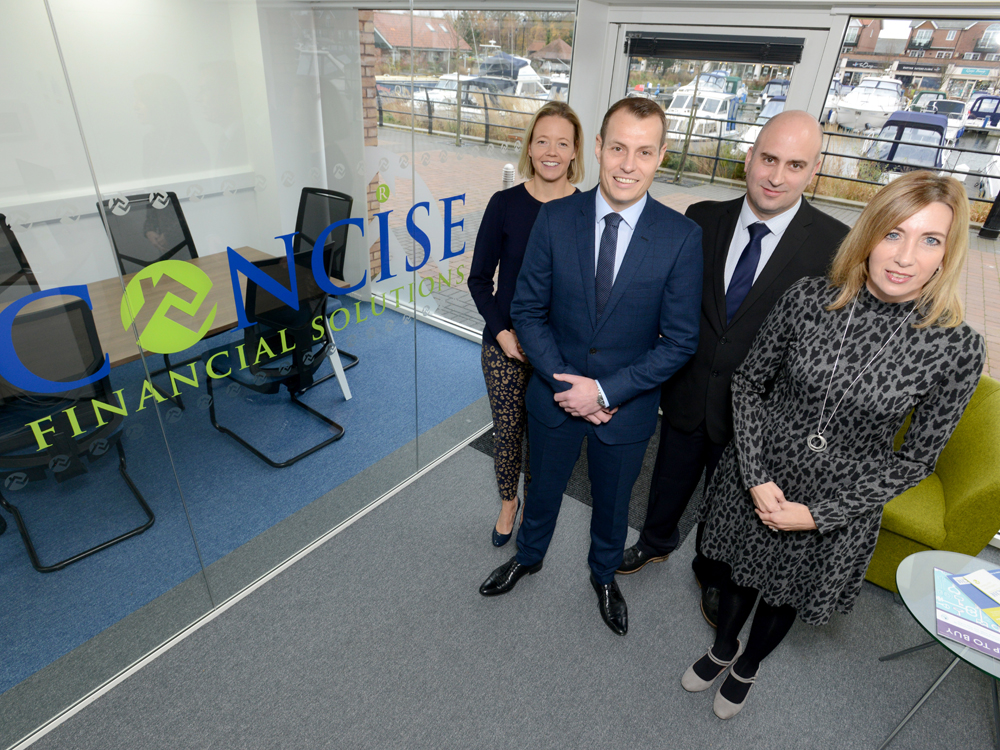 TOM JACKSON
FINANCIAL ADVISOR

Bsc (Hons), DipPFS, Certs CII (MP)
Professional Background
Tom started his career at Pygott & Crone Estate Agents in 1999, completing his Financial Planning Certificate and Certificate in Mortgage Advice and Practice to become a fully qualified Mortgage and Protection Adviser. Following 12 successful years Tom moved to Thompson & Richardson Financial Services where he worked for a further 3 years during which time he completed a Diploma in Financial Planning and Certificate in Equity Release. In April 2014 Tom left Thompson & Richardson to set up Concise Financial Solutions.
Tom's passion is property and he advises on all aspects of property finance, gaining great satisfaction in providing solutions to client's needs in what can be a difficult and challenging market.
Interests
• Season ticket holder at Nottingham Forest
• Running, trying to beat his Park Run PB and competing in local 10k's
• Enjoying quality time with the family
Fun Fact
Before being a mortgage adviser Tom previously worked on a farm, sold potatoes at the local Sunday market and canvassed for a telecommunications provider in Australia!
Quote
'Not everything that can be counted counts and not everything that counts can be counted.'

BARRY GRAY
FINANCIAL ADVISOR

Certs CII (MP & ER)
Professional Background
Barry's background, upon gaining a diploma in Business & Finance, started within Residential Estate Agency. Following 6 years valuable experience gained in residential sales he changed career to Financial Services in 2002. To add to his Member of The National Association of Estate Agency certification Barry secured the Certificate in Mortgage Advice & Practice. As well as 12 successful years as a Mortgage & Protection Adviser at Pygott & Crone Financial Services Barry also gained supervisor status in recognition of his achievements. Barry joined Concise Financial Solutions in 2015.
Barry advises on all aspects of residential mortgage finance along with non- investment based pure protection products. He takes great satisfaction in helping and advising clients on their mortgage and protection needs in a clear and understandable way and is always on hand to help clients achieve their goals.
Interests
• Enjoying quality time with the family
• Becks beer and onion rings
• Former racing cyclist, still loves the buzz of a fast ride
• Raising money for Parkinson's Disease through sporting events
Fun Fact
Inspired by the Rocky movie, Barry completed the 2016 Man V Mountain event which included a run up Mount Snowden. "Fun day out but the legs disagreed and are still recovering"
Quote
'pain is temporary, quitting lasts forever.'

SUE HOWSAM
ADMINISTRATOR
Professional Background
Sue joined Concise Financial Solutions after 23 years as Assistant Branch Manager at Barclays Bank, where she managed daily branch operations, while delivering excellent service to her customers. Sue's role at Concise Financial Solutions is to provide all our clients with the highest level of service at all times. She will liaise with lenders, insurance providers, estate agents and solicitors to ensure a smooth and hassle-free process, keeping all parties updated throughout.
She is very passionate about providing a warm welcome to all our clients and helping them realise their dreams.
Interests
• Enjoys spending time with the family
• Exploring the world
• Keeping fit
• Socialising with friends
Fun Fact
Sue thought it would be fun to do a tandem skydive – NEVER again! Her feet are staying firmly on the ground from now on!
Quote
'Live for today, don't wait for tomorrow and enjoy every moment.'

LISA JACKSON
ADMINISTRATOR
Professional Background
Lisa began her career at All Saints CP School as a nursery nurse before moving to Little Warren Nursery where she was deputy manager. In 2002 she became manager of Heath Farm Day Nursery and was responsible for the day-to-day running of the nursery including planning, liaising with parents, staff management and training. More recently Lisa worked as a lecturer in child care at Lincoln College before joining Concise Financial Solutions.
Lisa's past management and organisational skills are put to great use in her new role and finds the most rewarding part is the knowledge that she has done a great job.
Interests
• Fitness including running and cycling
• Interior design and house renovation
• Reading and theatre
• Family time and socialising with friends
Fun Fact
Lisa's bucket list includes hiking the Inca Trail and completing the Rubik's Cube!
Quote
'A big part of being a well-adjusted person is accepting that you cannot be good at everything.'